Khai island
and Pearl island private trip
Tour Khaolak, Khaolak Tour, Day Tour Khaolak, Half Day Khaolak, Excursion Khaolak, All tour in Khaolak, Khai Island tour from Khaolak, Island tour in Khaolak, Pearl Island from Khaolak, Khai and Pearl private  trip
The islands tour day trip is provided by Jc.Tour only because this trip is a mix of 3 islands in one day - Khai Nai island, Khai Nui island and the Pearl island.

To go to 3 islands in one day, we used the highest standard speed boat of Jc.Tour boats which is a new modern, very fast and comfortable with full security equipment installed.

Please see the highlighted pictures and read all the details of the trip before submitting the booking.
We stop at "Pearl island or Rang island by the other name, it this island is very calm and peaceful, because there are not many tourists arriving here daily. We do canoeing or bike cycling or visiting the Pearl farm on this island. However, this island will always be an empty beach, it is a good place for swimming and relaxing as well.
Khai Nai island: the heaven of every age, children or infants to play with the marine life- 1 million kinds of fishes, coral reef etc. Just standing on the beach, you can play with them.
Khai Nui island: The smallest island around Phuket, the shape of this island looks like a rock pile, there is no beach on it. But the surrounding of the island will be filled with the coral reef, Nemo, turtle, fishes and other marine life. Visit this island for snorkeling by jumping from the boat.
Brief Programs



| | |
| --- | --- |
| 08:00 AM: | Pick up from every hotel in Khao Lak. |
| 10:00 AM: | Arrival the private pier of Jc.Tour at Boat Lagoon Marina. Warm your body with coffee or tea. |
| 10:15 AM: | Depart from the pier to the fist destination "Khai Nui" |
| 10:40 AM: | Arriving at Khai Nui island, start snorkeling by jumping from the speed Boat. (Very nice and very safe) You are able to see a million kinds of marine life around this area. |
| 11:20 AM: | We used just 10 minutes to depart from Khai Nui Island to Khai Nai island. |
| 11:30 AM: | Do snorkeling from the beach, the heaven of everyone, swimming, relaxing, walking around and as specially - full of colorful  fishes can be touched just on the beach. |
| 12:30 AM: | We leave from Khai Nai island to Rung island or Peal island by another name. (The world class pearl farm is located here) You can visit this farm as well if you like. |
| 13:00 PM: | We serve lunch on this island. |
| 14:00 PM: | Our tour guide will guide you around the island as well as visiting the farm of the pearl. |
| 15:00 PM: | We depart from Pearl island back to the pier. |
| 15:25 PM: | We return you back to the hotel. |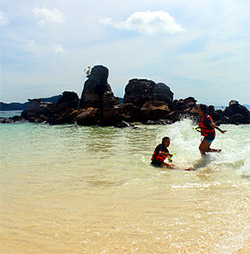 It is a nice and easy trip (Not too long on the boat. This is very suitable for the kids, old people or any one who need to be simple the best on snorkeling tour)
Price:(private trip)

| | |
| --- | --- |
| 2-6 People: | 4,700 Baht/Person |
| 7-12 People: | 3,700 Baht/Person. |
| 13-16 (Maximum) People: | 2,300 Baht/Person. |
Price includes:
Land transfer from hotel - Jc.Tour pier (private minibus)
All equipments for snorkeling
Soft drinks
Fruits and snacks for all the time.
Lunch
English tour guide
Entrance free for every island's national park.
Accidence insurance
What to bring:
Swimming suite
Dry clothes
Beach towel
Sun block lotion
Sun cap, sun glasses
Walking shoes
Camera
Lot of smile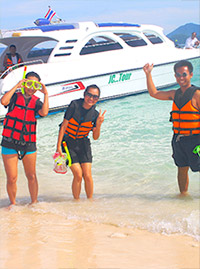 Remarks: By private Trip the time can be adapted upon the time of customer and water tide.
---
Why Jc.Tour?:
Jc.Tour had registered for Tourism Company under the rule of Thailand Law: Both Outbound(31/01235) for around the world travel. Inbound(34/00235) for traveling in Thailand.
The right registration can be checked, and you can check for Jc.Tour at http://www.tourism.go.th
Jc.Tour is the Top Responsible and Great Service in TripAdvisor Rank.
Jc.Tour has been registering for Accident Insurance all around the world (Inbound: for travelling in Thailand and Outbound for around the world travelling). This makes sure that all the customers of JC Tour will be covered by Insurance in everywhere of the world they reach.
Before, During and After the service, you can contact us 24 hours.