Flying
Hanuman
Tour Khaolak, Khaolak Tour, Day Tour Khaolak, Half Day Khaolak, Excursion Khaolak, All tour in Khaolak, Adventure Trip from Khaolak, Climbing tour from Khaolak
Fly from tree to tree in a rare piece of Phuket wilderness.

The new adventure game of Phuket, it is mixed of Relaxation, Nature Discovering and Adrenaline. We pass this new adventure to you by 28 platforms on the big high trees in the thick Safari of Phuket.
28 Platforms
Ride Across 80,000 Square Meters of Forest
Fly from one centuries old tree to the next
Abseil 40M down a centuries old tree.
Longest Fight 400+Meters
Maximum Height 40+ Meters
An adventure for everyone; Young or Old.
The only thing as "Safety is having fun.
Top experience staff to brief all guests before the Adventure start.
"The biggest Zip line Eco-Adventure in Southern of Thailand."
We set the Adventure in the real safari. And in the game you can discover a nice Phuket View.
Every one (Young, Old, Middle, Man or Girl) can fly. Our safety system is 100% Completed.
Some platform make you relaxing, some platform make you get Adrenalines.
Our staff are well trained with full of technical of Flying and Service mind. All equipments had been passed the World Standard Checking.
Price (Minimum 2 people booking)

| | |
| --- | --- |
| 4,990 Baht/Person | 28 Platforms + A full fun adventure with Meal + Seasonal Fruit Set + R/T transfer. |
| | |




| | |
| --- | --- |
| 4,750 Baht/Person | 28 Platforms + A full adventure with seasonal fruit set. (No meal) |
| | |




| | |
| --- | --- |
| 3,800 Baht/Person | 16 Platforms + A quick thrill ride through the jungle with seasonal fruits Set (No Meal) |
| | |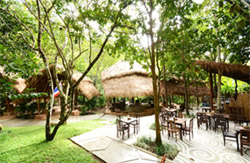 Remark: Minimum 2 people booking
Pick up 2 time/Day : 07:30am. & 10:30pm.







---
Why Jc.Tour:
Jc.Tour had registered for Tourisme Company under the rule of Thailand Law: Inbound(34/00235)
The right registration must be checked, and you can check for Jc.Tour at http://www.tourism.go.th
Jc.Tour is the Top Responsible and Great Service in TripAdvisor Rank.
Jc.Tour has been registering for Accident Insurance all around the world (Inbound) This make sure that all the customer of jctour is covered by Insurance in every where.
Before, During and After the service, you can contact us 24 hours.